Amusement ride bumper car are a very common amusement item in amusement ride parks, and they have always been a hot seller. They are very suitable for many people who like exciting items but dare not ride too exciting. In addition, different styles of bumper cars can be used in different venues, and can also give customers different experiences. If you have concerns about our products, you can come to us at any time.  Besides, we will do our best to help you answer your questions.
How many kinds of online amusement bumper cars are there?
There are four types of bumper cars in total. They are electric bumper cars, battery bumper cars, sky net bumper cars, and inflatable hot sale ride bumper cars. However, because the sky net bumper cars will rub against the sky net during work and produce sparks. In addition, they are very unfriendly to customers. Therefore, we do not make too many recommendations here. If you have any needs or questions about our bumper cars, please feel free to contact us.
Electric bumper car
As the name implies, it is a kind of amusement equipment that uses the ground to conduct electricity to promote the operation of bumper cars. The electric bumper car is a new type of electric bumper car that is the most popular and powerful at home and abroad. The electric bumper car does not need to be charged, it can be operated directly by controlling the switch in the control cabinet.
Battery bumper car
Our battery bumper car, as the name suggests, is because of the installation of batteries. Such a bumper car only needs to charge the battery. The price is cheaper than the ground net bumper car, which is very suitable for playgrounds with fewer tourists, or private amusement parks. And one of its advantages is that it can continue to work even if the power fails.
Powerboat material anti-collision PVC tire used by our park inflatable bumper car. Inflatable bumper cars, like battery bumper cars, only need to be charged to run normally, the price is relatively cheap, and the requirements for the venue are not strict.
Safety device
Our bumper cars all use natural rubber tires or powerboat material anti-collision tires. This kind of tire is anti-collision, anti-slip, shock-absorbing, corrosion-resistant, anti-collision, and safer, and the size of the tire is a little larger than the size of the car body.
In addition, we have added seat belts to the seats of the car, which can effectively protect the body of the customers from rushing out of the car even if the impact force between the customers is large.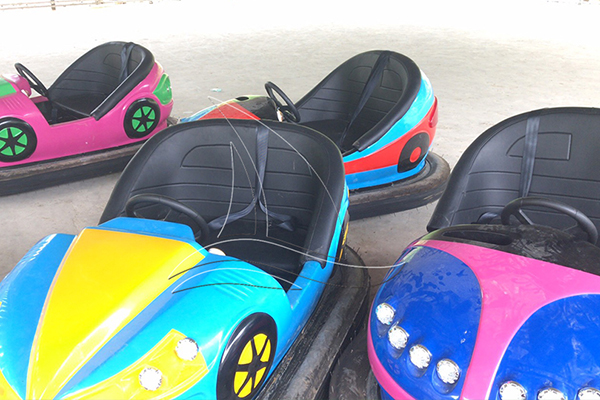 What are the design features of our bumper car?
There are many design features of a bumper car, such as its seat, appearance, or safety equipment.
Appearance
There are also many different designs for our bumper car body. There are racing cars, sports cars, and cars with animal decorations. The colors are gorgeous, some are cute, and some are handsome. And there are some pink and tender that can always attract customers of different ages under the mutual reflection of color-changing LED lights and the music with a little atmosphere.
Safety device
The safety equipment of our bumper car mainly includes seat belts, rubber tires, and a 360° steering wheel.
Seat
Our bumper cars have double seats and single seats. Double seats mainly refer to ground grid bumper cars and battery bumper cars. Furthermore, the age requirement is not very high. If there are children who want to play but are afraid, they can ride with their guardians. Single seat mainly refers to inflatable bumper cars.
Each seat has a seat belt, so even a two-seater will have two seat belts, otherwise, the impact of the bumper car is likely to cause customers without seat belts to rush out of the car. In addition, the 360-degree steering wheel can effectively avoid the impact of the opponent's passing. Besides, In addition, as mentioned above, our rubber tires can not only absorb shocks, prevent collisions, and protect the car body from damage, but also protect customers and reduce injuries to customers.
What are the requirements to use bumper cars?
The use environments of different styles of bumper cars are similar, but their requirement for ground also have some differences.
Environment
Bumper cars can be used indoors or outdoors, but it usually in a carport. It is inevitable that so as not to cause damage to the car body, damage the battery life, and even hurt customers try to avoid rain and snow since bumper cars driving lie in electricity.
Ground
For electric bumper cars, there should be no foreign objects on the field when the bumper cars are running, because the ground grid of the bumper car is driven by the positive and negative poles of the floor. If there are foreign objects on the ground, it will not only lead to poor contact or even power failure of the bumper car but also may cause the bumper car to fail to follow the ideal trajectory.
Other points to note
In addition, because people themselves are conductors, it is best not to stand barefoot on the ground of the electric bumper car. Otherwise, it may cause unpredictable physical injury. The floor of the ground grid bumper car is specially customized for customers. Therefore, if you want to buy our ground grid bumper car, please be sure to tell us the size of your expected use site.
Venue requirements
The venue requirements for battery bumper cars are relatively low. As long as the ground is flat, it can be used normally. For example, floors, concrete floors, marble floors, etc., but avoid, there must be no foreign objects on the ground. Inflatable bumper cars can be used more widely, not only on concrete floors, and tile floors but also on thicker ice surfaces. But the ground also needs to be clean. Do not allow anyone to walk in the field during the operation.
Many customers love bumper cars. If you need to buy bumper cars, our products will satisfy you. If you have any questions about our products, please contact us in time.