Best electric track train in the park is an increasingly prevailing amusement ride in our daily life. Our track train will bring a great number of benefits for you and your customers such as transportation, broadening people's horizons, increasing the level of the consumers of your park, and then improving your income. In addition to its benefits, the most important point is that we will install a lot of safety facilities for the train. Therefore, we will choose the top materials to make our track train.
What benefits of our electric track train in the park?
The best rail train ride in the park is undoubtedly the best way to immerse people in nature. This way to tourists will broaden people's horizons. They are a convenient means of transportation, bringing people a lot of convenience.
They can broaden passengers' eyes.
When your passengers are on our best electric track train in the park, you will experience the most wonderful scenery and beautiful nature. The train passes through various scenic spots in the park, where visitors can enjoy beautiful gardens, tall trees, and wonderful water features and feel the beauty of nature. Perhaps they can also see various wild animals, such as rabbits, squirrels, and birds, to give passengers an immersive experience. Moreover, you can build a water orbit or land orbit above water or some other scenic sports.
There are convenient transportation tools.
Electric Best Track Train ride needs to be recharged when the battery is out of power and doesn't require much maintenance and is very environment friendly. It is a very convenient amusement ride because the driver can park them anywhere at any time. Furthermore, you need not spend a lot of time training the driver.
When your customers are walking in the park and don't want to go too far, the park's rail train  can relax, rest and enjoy the beauty of nature on the train carriages while walking easily through the park. This also makes it an excellent means of transportation for the whole family, especially for younger or less mobile travelers.
How about the safety facility of our electric track train?
It's a very safe train ride. We'll put a seat belt on every seat to prevent the passengers from having an accident while the train is running. Meanwhile, there will be pedals at the entrance, windshield wipers, a fire extinguisher, and panic buttons. In addition, our trains can also add cameras according to your wishes, air conditioning and safety nets between the cars.
To improve rail trains in the park are very stable and safe, our choice of steel is based on the national standard Q235 material level. And we choose 196A resin as our material of the fiberglass reinforced plastic.
It is rigorously tested and inspected to ensure the safety of visitors. Not only that but make sure everyone has a safe and enjoyable train experience.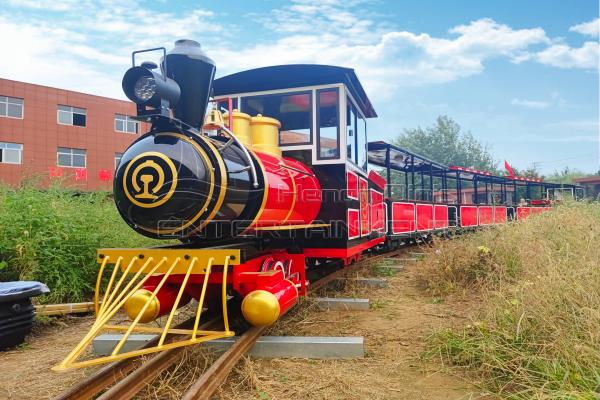 In short, the park's best rail train is a safe, convenient, and fun means of transportation that allows visitors to enjoy the beautiful scenery and natural beauty of the park. If you are planning to buy an amusement train ride or build a park, our train may be the best choice for you.