Trackless train's price has many impact facts. Entertainment equipment is becoming increasingly popular in today's world. As times change, the variety of trackless trains becomes more and more diverse, and therefore the price of the trains also changes. We also adjust the prices according to the cost of the different types of trackless trains, the product difference of amusement ride manufacturers as well as the differences in the internal design and equipment of the trains. For example, whether the train is air-conditioned or not, whether safety nets are needed between the cars, and whether the autonomy of the trackless train is in motion.
Electric vs Diesel trackless trains, what are their differences in price?
There is no way we show you a specific answer to this question right now. Because the price of trackless trains varies with size, I would like to share with you the price list of some of the regular models available in different sizes. For the trackless train price that 20/24 seats are lower than the capacity is 40 seats. From the information on the trackless train given as follows, we can see that their size and power are different. Therefore, the costs of  larger sizes trackless trains' material are more higher.
The battery trackless train with 40 passengers has a locomotive size of 4*1.6*2.2m and a carriage size of 4*1.8*2.5m. Furthermore, 12kW of power allows it to go farther, run longer, and with more power. In contrast, our 20/24-passenger selling trackless train ride will decrease the  size of the head, compartment, and power.
Moreover, the cabin size is 2.95*1.34*2.2m, and the power has been reduced by more than half to 5 kW. Small size trackless trains consume fewer materials, our cost is lower, and our fee of transportation will reduce accordingly. Therefore, the price of small trackless trains is more affordable. The front size of our hot sale trackless train is 3.3*1.3*2.2m.
In short, their prices will also be impacted by the autonomy of the train in motion. We can see that the highest speeds are different, and Just as above mentioned. And they will also be driven in different ways which can lead to different prices.
40-seat, battery VS diesel
Why do different ways of our trains without track affect the price? Because different driving methods will use different materials, there is a certain gap in the cost of these materials. Moreover, they have a great difference in their power and speed. The power of the 40-person battery trackless train is only 12 KW, and the maximum speed is only 2 kilometers. In addition, its batteries are also divided into two types: colloidal batteries and lithium batteries. In contrast, a diesel trackless train with the same seat size can have a power of 75 kW and a speed of 25 kW/h, which is very suitable for people who have requirements for train speed, so their prices widen the gap.
Working conditions
Furthermore, their working conditions are different. When a diesel trackless train is on standby, it still needs to consume fuel. And it is unlikely that you would leave the car switched off while waiting for visitors to the board, for example, because the standby time at this point is uncertain. An electric car, on the other hand, is not afraid of stalling, so it can come to a complete stop and it doesn't take as long to start as a regular fuel car.
Environmental impact
Gasoline trackless trains contain a large amount of exhaust gas in their emissions, which has a very bad impact on atmospheric pollution, especially in scenic areas. The low air quality in big cities nowadays is large because there are too many oil-burning cars, which emit more exhaust gas than the balance of nature. The electric sightseeing vehicle has no emissions, is green and does not have any negative impact on the environment, and is a kind of protection for scenic spots and tourists.
Do festivals affect trackless train prices?
Yes, they do. We are living in an age of information explosion, and with the development of time and technology, more and more people have become more conscious of festivals, which has led to holiday-themed trackless trains becoming more and more popular with consumers under the corresponding festivals. Therefore, to have a better sales performance, it is inevitable that the prices of our trains will not be adjusted. Especially, Christmas, Halloween, Thanksgiving, and other such holidays.
Funny holiday
In order to have a meaningful holiday, people like to go out shopping and have fun. At this time, the demand for trackless trains increases in order to attract more customers, and businesses will want to increase the number of products as one of the ways to compete.
Therefore, the built-in differences will likewise affect the price. To have a romantic division, many young couples like to have a sense of atmosphere, so that the occasion can not only be used as a photo material as a souvenir but also help to promote the relations of both sides, most of them will choose a more romantic theme. If you are a young child, most of these people like a cuter theme, or a busy worker all day would like to choose a simple one, a train ride through the park is also a great way to relax.
Does the design style of the trackless train affect the price?
Yes. The difference in the design of our trackless trains is mainly the appearance. There are fully open carriages, semi-open carriages, and fully open carriages. The energy spent on making these trackless trains is different
Carriages
Different number of carriages have different price level. Therefore, some sellers want fewer carriages, but some sellers do not need many carriages. Moreover, the different equipment carriages, which will also lead to price differences. For example, whether to add safety nets between trains and the like.
Customize
To remake the template for your products should consume more raw materials. In addition, the cost of fiberglass used in this process is very high. Moreover, it takes more manpower and material resources to invest in it, which is likely to cause trouble for other sellers in terms of time.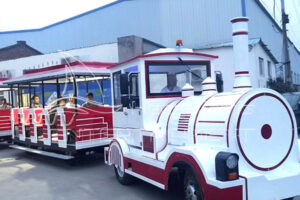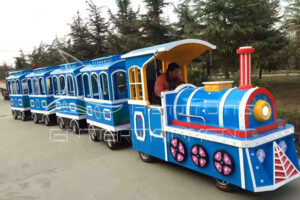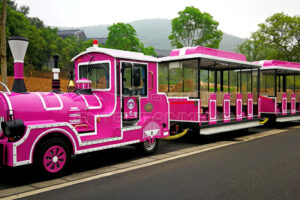 There are many factors that affect the price. Although several aspects have been mentioned, it is only a one-sided description from different angles, so if you have any questions about our trackless trains, please feel free to contact us.