Although the trackless sightseeing train for kids is a kind of amusement facility, the value it brings to people is far more than that. Nowadays, tourist trackless trains not only have various styles and themes but also use places have changed. They can be made into simple sightseeing cars for factories or schools, animal or sea-themed trackless sightseeing trains suitable for children in shopping malls, and special sightseeing trains for tourist areas or festivals.
What does our trackless sightseeing train look like?
Our trackless trains rides come in a variety of shapes, some covered and some uncovered. Some of the cars have different patterns, because most of them are customized to the customer's preferences, and some of them have different themes, some of them have an animal theme, and some of them have an object theme. Different looks will present different feelings to visitors.
Some of our sightseeing trains without rail are made of steel, and some of them are made of 5 mm FRP. Our fiberglass is made of 196A resin and fiberglass, which has very high adhesion. This resin is of better quality than fiberglass made of 196C resin and fiberglass, and the hardness and moisture resistance are relatively less.
The paint of the train is very hard, smooth, and wear-resistant, which makes the color of the train more gorgeous and attractive.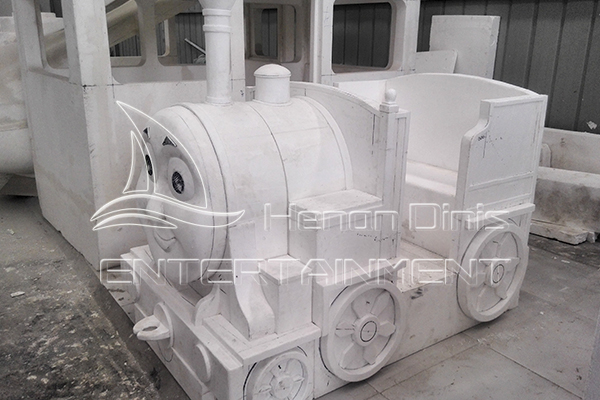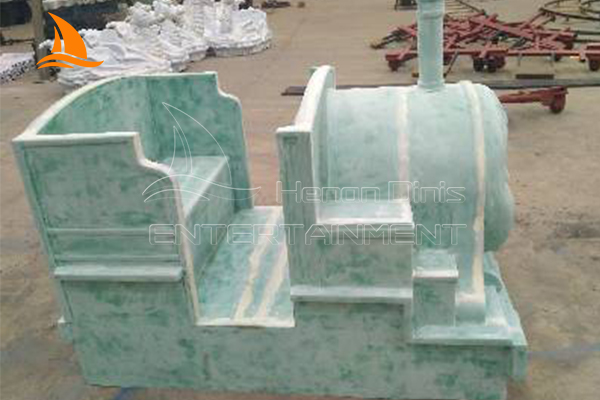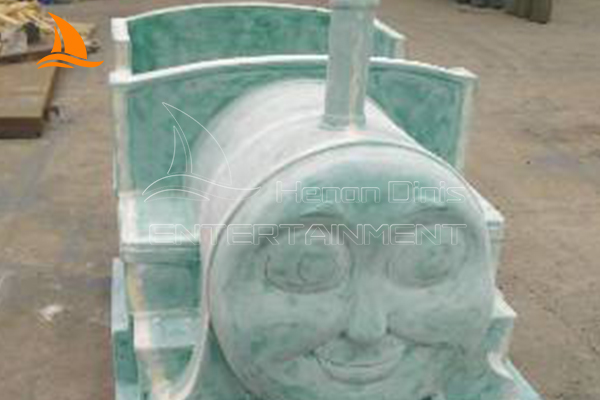 The seats of our trackless sightseeing train are made of anticorrosive wood with top paint and primer. This kind of seat has good gloss and is easy to wipe and maintain. Although it is wood, passengers will not feel uncomfortable when they sit on it. People of all ages can ride it.
What's the value of our hot sale trackless train?
Buying a trackless train will bring you great value. Because no matter at home or abroad, the trackless sightseeing train is a very popular amusement equipment. The purchase price may be a little high, but the value it brings far exceeds the price. Sightseeing trains can be used not only in amusement parks but also in shopping malls and other places. It has a variety of styles, this different year of two stages of people like.
There are the crown-themed train, which is very popular with girls. Moreover, the pink train, as well as the elephant themed train and the sea themed train featuring water plants or fish, which are very prevailing among children. You can use them in various places, or become a beautiful scenery. Such trains don't need a large field, they don't need to build tracks. You just need to set them up and run, and they're easy for operators to use.
In the case of a clean, efficient, electric sightseeing train, you don't need to maintain the battery occasionally. Moreover, it just needs to recharge when the battery is about to die. And it doesn't need to make too much noise while the train is moving. Since the ride price is not very high, the quality of people's life has been on the rise. And many people like to experience different lifestyles, so the electric trackless train will be very popular.
What is the wheelchair carriage of train without track?
To meet the needs of more people, you can  customize our sightseeing trains specially to meet your requirements. In addition, it can also to allow some travelers who are not able to travel to enjoy their favorite scenery.
The entrance and exit is special. For ordinary carriages, a passenger can enter the carriage smoothly by stepping on the footboard underneath the carriage. But a wheelchair carriage, the steel plate at the back of the carriage needs to decrease it as passengers get on and off. And remove after passengers enter the carriages.
Passengers can enter the train successfully through steel plates with non-slip aluminum flooring. In addition, they can protective chains on both sides to prevent accidents during boarding.
In addition, the seats inside the carriage are detachable seats. You just only to remove before or before the passengers enter the carriage. Consumers can still  seat in the seats after being restored to its original shape when the passenger exits the car.
Where can we customize our trackless trains?
You must be lucky if you found our house. Because we are a specialized manufacturer of amusement equipment, our products are made by ourselves. So not only do you get a discount on the price, but you also get a big advantage in the customization of the train. Do you know which equipment we can customize at will?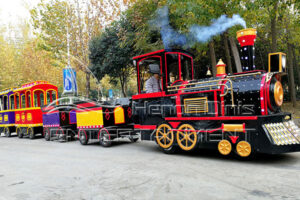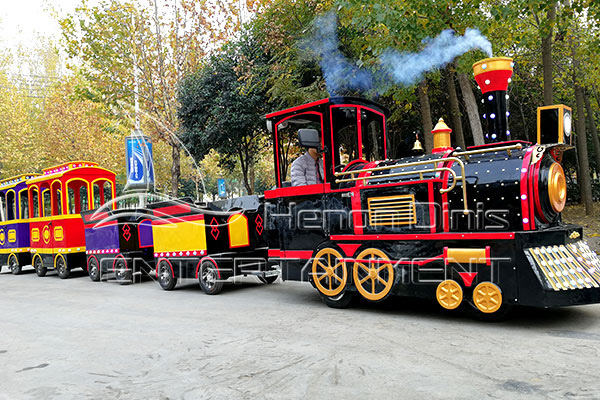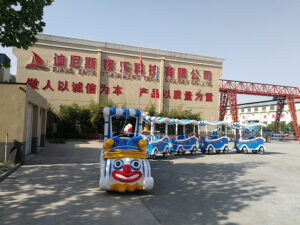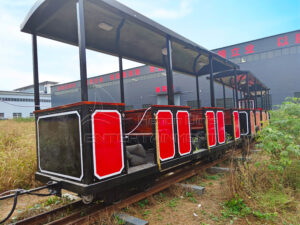 In addition to the wheelchairs mentioned above, we can also customize the rain curtain to keep out wind and rain, the logo of our sightseeing train without tracks, and the spray paint on the sightseeing train. In addition, what seems to be a bright light at night is as bright here as it is here and you can change it.
Besides, these customizable parts, the rest of our sightseeing train is not customizable but you don't have to worry because it has a wide range of options. For example, we have open doors, semi-closed doors and fully closed doors. You can choose any of these. Every design style is very popular.
What are the locomotives of our tourist trolley trains?
Under the guidance of science and technology, the tourist trackless train is becoming more and more popular in the park, and the functions inside the locomotive are also becoming rich.
Our trackless sightseeing trains have copper bells in the front and LED headlights outside, and for those antique trains, we have a continuous cold steam smoke effect. In addition, fully electronic control digital tuning system, FM radio, MP3 player, as well as 18 preset stations automatic scanning storage function, USB/SD dustproof function, using rail level flexible keys we will also have all.
The commercial value of the trackless train is hard to estimate, it affects people of all ages, and it is not very environmentally demanding, but it can be of great help in both appearance and functional use.